Pander is a hidden boss of Bust-A-Groove 2 game, appeared as a small panda at intro that transforms into  a creepy human with panda make-up. Can be unlocked by using Robo-Z Gold.
In his ending in Bust A Move 2, Pander wonders where all the audience including the Dancing Heroes' host, James Suneoka when he arrives at the Dancing Heroes stage (implying that they are left or scared to get away due to his creepy appearance). With that, Pander had no other choice but to dance in the dark with his traditional Butoh Dance.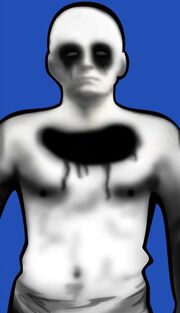 Age: 31
Height: 183 cm
Weight: 78 kg
Dance Styles: Butoh
Jammer Type: Creepy Camera Effect
Appearance
Edit
Pander initially appears as a small panda when it was fought as a hidden boss character. His appearance is influenced by the dance-performance style Butoh.
During his transformation as the creepy man in a panda make-up and his playable appearance, He was a bald man in a panda make-up having his skin painted into black and white to resemble a human panda and black eyes. He only wears white briefs with black tights undeneath which reaches to his left feet and his right leg, he wears a single brown loafers and white shins. He has a golden bracelet on his left wrist which it inhibits his transformation from a small panda to a creepy man in a panda make-up.
In his alternate appearance, Pander's appearance remains the same only he gains a single comical flower and a brown soil on his head.
Pander's sign in Bust A Groove 2 is a Japanese Flower Scroll.
Pander also knows Sumo Wrestling as he does a Sumo warm up pose as part of his win animation.
In one of his win animations, Pander does a Kabuki pose.
When the player plays as Pander, it retains his human panda appearance rather than being initially transform this form as a small panda. His initial pose can be seen doing a traditional bow before performing its butoh dance.

However while fighting his mirror match, Pander does not have this ability to transform but his mirror self has one.

In his ending in Bust A Move 2, Pander is seen dancing in Butoh in the dark after revealing that all of the audience including the Dancing Heroes host, James Suneoka are gone due to his creepy appearance.