Hustle Kong is a gorilla or a guy in gorilla suit with boxing shorts. Can be unlocked by using Hiro.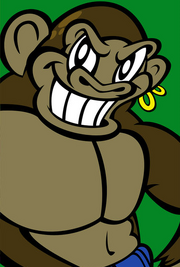 Age: ?
Height: 185 cm
Weight: 226 kg
Dance Styles: Same as Hiro
Jammer Type: Same as Hiro except the photo image
Could possibly resemble Donkey Kong except the red tie.
Has a cameo in Hiro's stage where he appears if the level intensifies.